Hello! I must say that I have been living quiet a different life recently. I also wish I could update this site more. Ben really has a great publication and mine is just a half assed throw together of pictures I took on the run run run run. But then again, I again I am on the internet for possibly 3-4 hours every week, and I think I do alright.
I have left my old host family. They certainly were caring but oh, I feel so good, you know. Today I saw my host dad driving in his car. He didn't see me, but it just made me feel so happy that I was headed in the opposite direction. I really must affirm my respect and admiration of the family, though. It is just nice to have a change. A good thing about exchange year is that it isn't permanent. When people stay in the same situation, no matter if its good or bad, it is still trying. With this, I have something and then am allowed to dismiss it, to change when most others can't.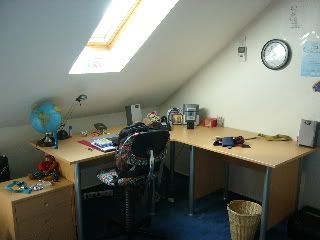 Here is where my life was for 6 months. On this desk. Christmas cards, valentine presents, letters, music, movies, books and books and toys, letters, memories, tears, sweat, time. Oh look how barren it is. I think it will miss me. I think I was a surprise for it.
Last Wednesday I went on a spontaneous trip with my Biology Teacher Dr. Trostmann to an archeological excavation site. A pre-prehistoric volcanic depression turned ancient lake turned possible waste depository is now closed off to the public with exceptions of teams of scientists and guided tours. Here is our tour guide, standing in front of the entrance to the "Grobe Messel; entrance forbidden due to dangerous surroundings". The girl was a geology major and reminded me of Nisa, if anyone remembers who that was. (lived in my house this summer)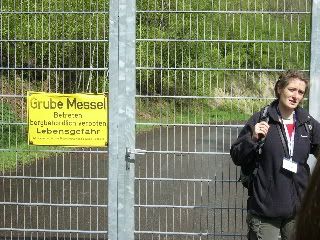 Here is a team of students and a professor, and they were looking through this rock made from pressed algae. There were bugs and fish and such. Most of the rock was thrown into this huge pile, which would sort of disintegrate in a year, because the rock is actually sort of powdery organic waste.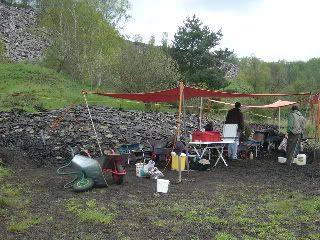 We ate some. Tasted like earth, but was soft.
Afterwards, we went to Darmstadt to see a museum and to walk around. An architectural mistake, if I would say so myself. Though the man silhouette is a great idea.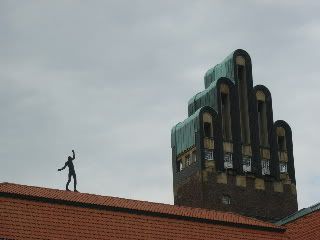 The biggest one of these ever found. A giant squid would have used it.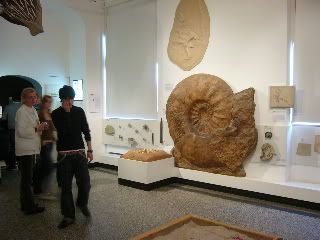 What a wonderful inspirational idea. A college girl must have done this. There we descriptions of different types of animals and next to Human (Mensch) is just a mirror. Brilliant. Notice the hair cut.


Sven down and out. (Nothing to do with the excavation site. He didnt come. New theme.)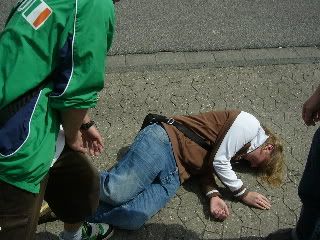 Everything has bloomed and now its green everywhere. Finally. It feels so so so good. High spirits abound.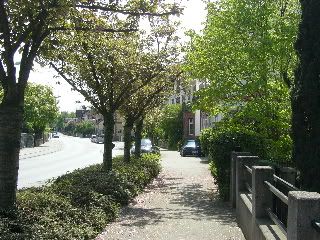 So I live in the sticks, the boonies, hick country. But that is the only set back. My new host family is so great. The mom, Barbel, and I talk forever sometimes, because she likes to talk and I like to listen. And she is a teacher and READS and is intelligent. She buys us sweets and is just a good mom. The kids are named Jacintha(14), Dominik (18) and Bernadette (19). The two older ones have both been on Rotary exchange to South America, and so are very responsive and empathetic to my situation, even though its really going great for me.
The dad, Joachim, is pictured here,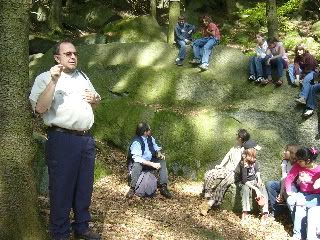 ,and works as a biologist for a water treatment mega company. His hobby is to give guided tours of the mountain near our house, where the Romans came to quarry rock. Though the funny thing is that the granite formed here is faulty due to the high amount of imperfections in it. So everywhere are rocks that were attempted to be split, only to have splintered in an unpredictable direction, and so, the mountain was abandoned.

A sign of the Romans!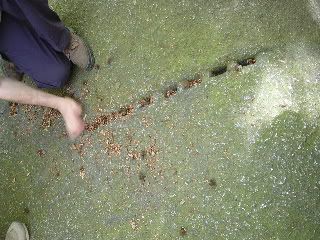 Here is a giant Column that was almost finished, but for some reason was also abandoned. Supposedly, Napoleon wanted to take it away, but couldn't figure out a way to lug the beast down the hill.


And the attraction is called the Felsenmeere/Romersteinen. You can see the "Sea" of rocks here that were naturally formed. It up and down the mountain. Its complicated to explain, so I will say it was a result of tectonic activity that also formed the mountains here AND created the European Continent, partly. These things were like bubbles of magma that floated up to the surface, basically. That's about as far as I can get into it, anyway. BUT, its amazing, and it looks like it was done by humans but no, no no no.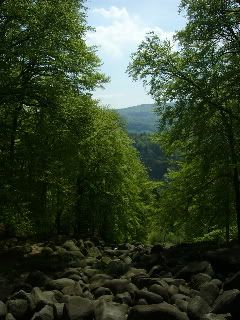 Oh last weekend was the celebration of May 1st. The Socialist holiday. The adults go out dancing and the kids have their own thing. We went up to the mountains and made a fire and listened to music. It was warm and fun and a clear night. On the far right, one can see Sven, but other than that, you don't know anyone else there. I don't really either, hah.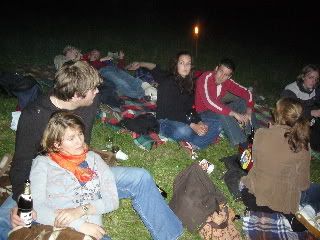 Walking down to town. Totally dark. In the way back is Steffen, the gentle Giant.

Ohh at school yesterday was this beautiful car. Cherry red, surprise infront of the school. I love those things, that people casually park and allow to be eyed. I was the only one that was really that impressed, though.
The same day, we big kids interrupted a 6th grade class taught by an attractive young teacher to fetch this slightly deflated soccer ball from the roof. The children were very impressed, even though they are all little smart asses, somehow. Here is Max, proudly holding our entertainment for the cancelled class period. I got sweaty.
One more picture for now, hopefully, not the last update on this new project of mine: I found a bicycle and it is my goal to keep it as mine. An experiment, if you will. We pulled it out of a bush on the way home on that May 1 party, and I have been leaving it around town for 5 days now, coming back the next day and it's still there. I don't lock it up, but I do try to hide it a little. Here I am leaving it on Monday evening. It doesn't have brakes and the shift cable is also broken. So these sort of cancel each other out, because the rear derailer is constantly in the highest gear position, so I am forced to ride very slowly and arduously, making the lack of brakes a little more permissible. But I am currently working on fixing the back brake so it will be safer. I also have to tighten the handlebars and the back tire is very bent, rubbing against the frame with every revolution. But I don't know how to fix that…
But this is the only thing keeping me going now. Hehe. My new darling to worry about. Tonight it is in an alley behind a tree. I will go soon and take the brakes off and take them home with me, so I can clean them and oil the cable and so on.
So I will keep you posted on this experiment. I hypothesize that when the brakes become functionary, I will have to start locking it up, as it will become a semi-practical vehicle, and therefore, more valuable. Also, note the big "Mom Saddle." For my big, mom ass.
Ignore the way I look in this one, which I will describe as Ridiculous.
This weekend is a possible unofficial exchange student meeting in Mainz. Exclusive, man.
And tonight is ice cream paid for by Rotary. Oh dear.
Have a great week.
Konstantin