Good day. Last week was fast and exciting. On tuesday, we had this Europa Fest at school. Our school is crowned with a EUROPA SCHULE title, and so, it sort of belongs to a coalition of the willing... no no a loosly organized group of schools in europe. they sometimes do exchanges with one another and so forth. Well our school hosted the first annual meeting of these schools, though for some reason, it was just a bunch of little kids everywhere. Parts of the 12 grade helped out, including my class. we sold drinks at 50 cents a pop, and there was a huge inflatible slide, regulated by (L-R) Martin, Henning and some other guy. they eventually just started throwing the kids down. i appologize for the violence, but this picture turned out very very good. i think Ben will laugh for a good while.

In the back, with the sandy colored jacket is Herr Mescher, the principal of our school and also a very good math teacher, my friend Constantin reports. The man on the left is Herr Kossman, my art teacher who has a bored look and a very sepulchral sense of humor. i look forward to his lessons, actually.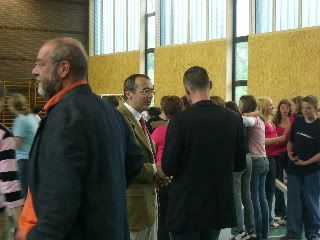 I tried to take a picture of all the teachers hanging out and chatting, but i was caught. ahhh. turn away pretend nothing happend.


I want this bicycle. Located parked at the Train Station was the Mountain Ass bicycle. Shear Brilliance. Awards, applause. And i dont think there is anything more to say about the Mountain Ass.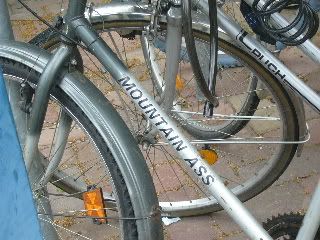 And on friday win and i went to Frankfurt, again, to pick up his friend Jar. Here is why this restaurant has been closed. So I will never get to eat there. But the disappointment is now justified, and i feel a little better.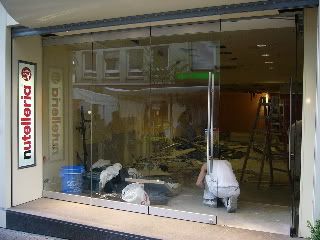 A train. I just love these things. this is the train station in Frankfurt. I am there a lot, and its sort of modern mixed with old. and some flowers. In frankfurt i bought 4 books, underwear, and put money on my phone. i also ate Döner, which i cant really explain. turkish fast food. Win and Jar talked thai together, and so i waited patiently for a translation. but that is alright, they dont see each other that much. Jar went home with Win, because on SATURDAY, we went to Mainz.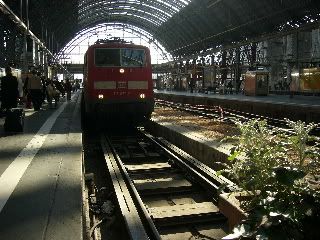 Here we are cold and having fun fun fun. Tik had a birthday party, and so we all went to visit her, and to see each other. An exchange student meeting is always desired. This is a cool statue, and here is my very cool umbrella, a 3euro umbrella, which broke a few hours later.

Lets see, Jar, Hisa, Tik and Win. Hisa is from Japan, but the others are from Thailand. They are good good kids. The pink umbrella is by far, the greatest. Tiks school is in the back ground. her mom conducts at the Mainz Theater, and she gets to go all the time. I am envious.

Everyone taking pictures, which is sort of all that exchange students do. the far right is sunny San, the 4 Thai kid. Taking his picture is the marvelous Fiona from france. Then in the middle is Kazumi from Japan, Tik is sprawled out, and then Erika from OH CANADA on the left.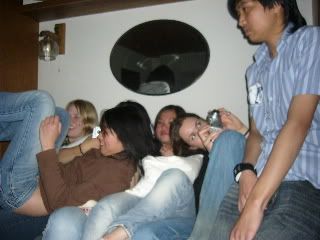 Action and adventure and hardcore clothing styles.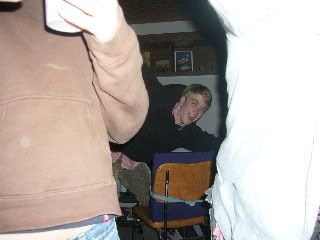 Win cooked a delicious Thai dinner for us. here we are in the kitchen cleaning up before departing sunday morning. This picture is very very very good. I am from the 50s. in this 70s kitchen. strangely similar to an old american typical kitchen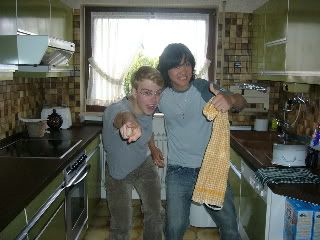 My friend Steffen helped me fix my bike a little and this is what we found in his house. this is someones name. really.


and an update on the bike. as you can see, the experiment is still going. Win is confidently riding the bicycle, which still requires a name and a new paint job. The tires are pumped up and the handle bar has been tightened. I took the brakes off to work on them at home, but i better do that soon, because my shoes are really eatting it. they will be gone within a few weeks if i keep up my braking habits. but the bell is by far, the best best part. tonight it is behind the town hall. of course it is not locked up, but i am again confident that it will be there when i get off the bus tomorrow moring. riding to school is so wonderful, i recommend it. i wish i could take this bike home with me and use it in Ann Arbor. i would be a king.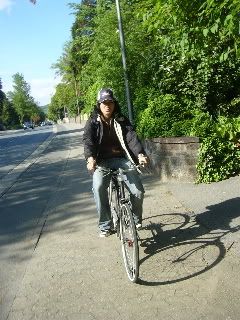 this weekend i am going on a trip with rotary. they are taking us to some resort and it will be the 4 exchange students from bensheim and rotary families. i dont know really what to expect except a swimming pool and hiking. and schnitzel. oh yea. and all expenses paid. the update, when we return. enjoy it. 9 weeks left. my parents are coming to visit on may 30th. wonderful.
love, kostya.