This past weekend I spent a good amount of time in Detroit. It was really exciting to go there and even more exciting to really feel happy there. I haven't had too many experiences there prior to this year that made me feel really interested and impressed with the city. Especially this past spring, I've come to really appreciate the place and the work and dedication that people pour into living there. I told a friend that the city breaks my heart. This is particularly true as I prepare to leave Michigan. I believe this past weekend really helped me appreciate what I will be leaving behind. Ann Arbor included, the people I've met, things I've missed out on, having no idea about them in the first place. I hope to return at least once more to the city before I go, it really is a beautiful place.
I have a lot of things to show from the trip. Lets see... Friday a number of us drove out to the city to watch the Red Wings play in game 7 of the Stanley Cup Finals (at a bar, not actually at the stadium). This involved a walk through Corktown.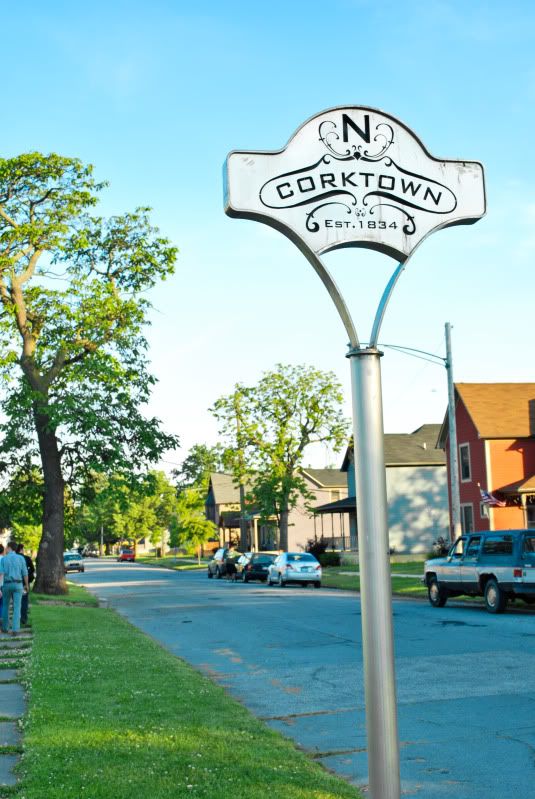 Some pals, Matt, Geoff and Matt



About to walk across the highway



We got to see the old Tiger Stadium being torn down. Controversial because of the amount of effort put into trying to save it.



My favorite picture of the day.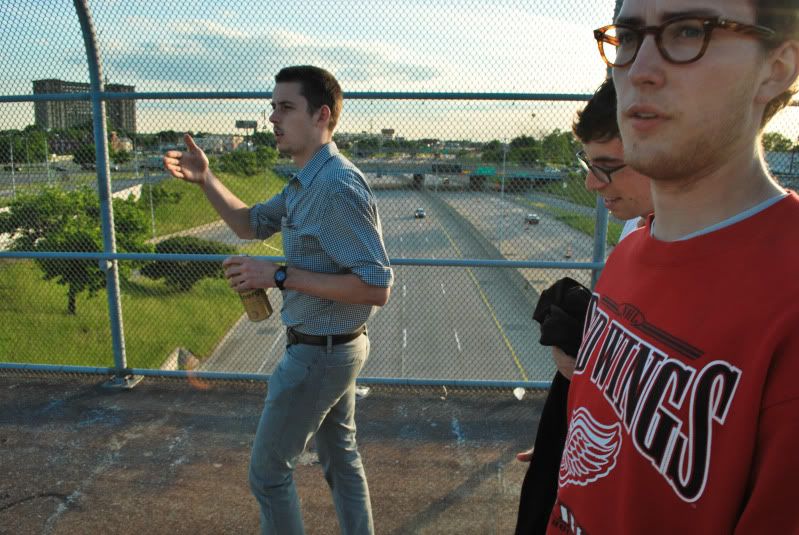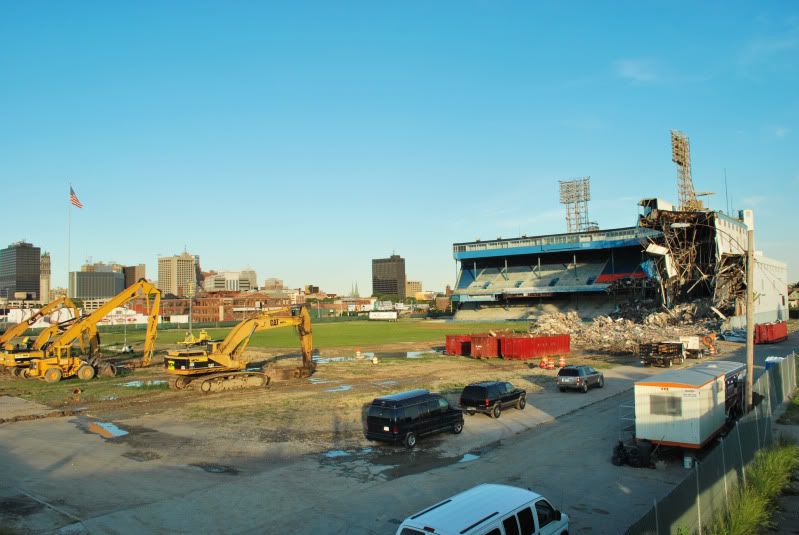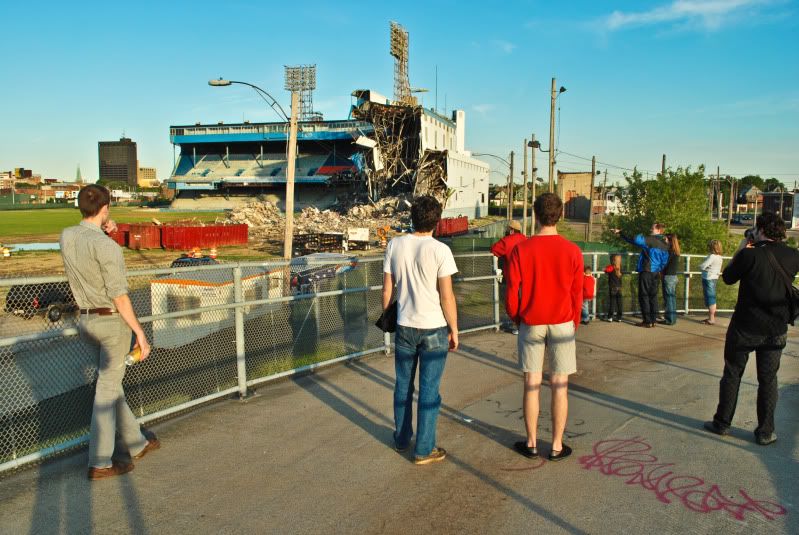 On Saturday I took the train back to the city to spend time with Matt Lewis. I was nervous about the really different kind of weekend, about not staying in Ann Arbor and about doing something new, but it ended up being really incredible. Matt picked me up from the station and we walked to his house, walking past the Detroit Institute of Arts and the Public Library. Matt works at the public library.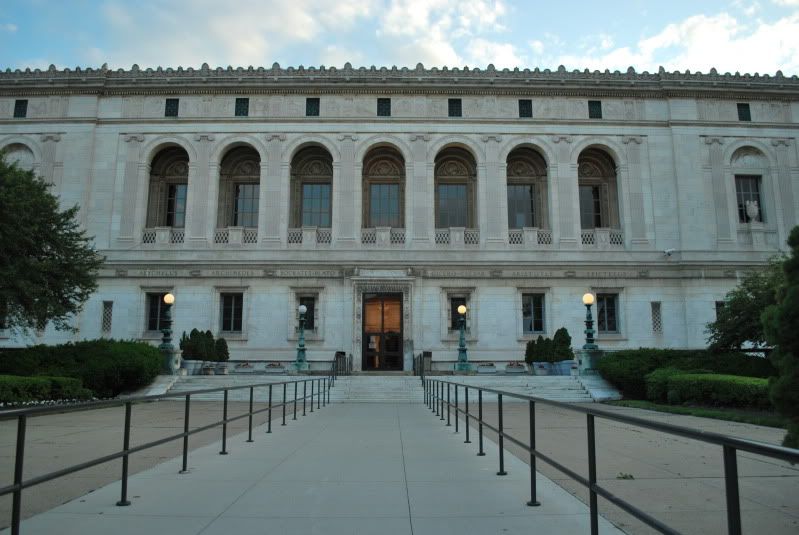 That night we went to Lafeyette Coney Island, which is a hot dog stand, and ate some really good dogs, fries, pie, coffee and beer. Traveling around the city was by bicycle, which was one of the most exhilarating experiences I've had in a while. The streets are so flat and riding fast is a breeze, and the city is also really large, so any bike traveling takes a long time compared with Ann Arbor, I loved it! It made so much more sense to have a bicycle, and I look forward to my bicycling days in Boston. We went to the Majestic Theater just to check out a band that I got free tickets for from WCBN (thanks Geoff!). After a little bit of that, we met up with Matt's friends at his neighborhood bar and I spent a long time talking with some French filmmakers about Ghostbusters and art, it was really fun to listen to them. Seemed like very well-rounded people!
The next morning Matt's mom was selling some perfume at Macy's in Eastland, and the perfume company financed the publication of an EP by Matt's cousin, a singer songwriter. We went to this mall to help sell perfume, but ended up just hanging out in our nice suits.
Matt looked awesome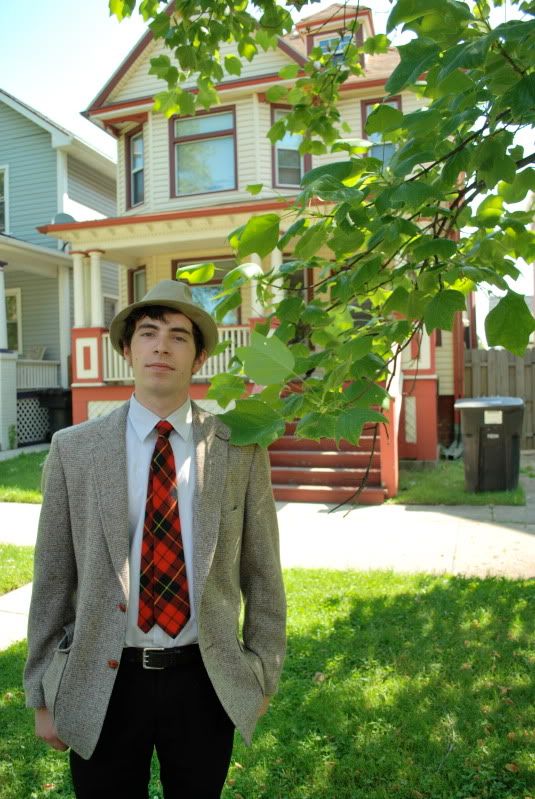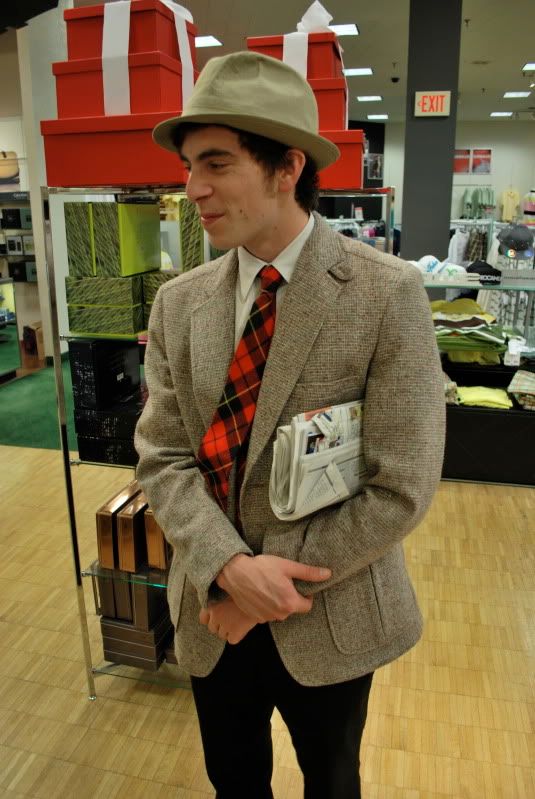 The artist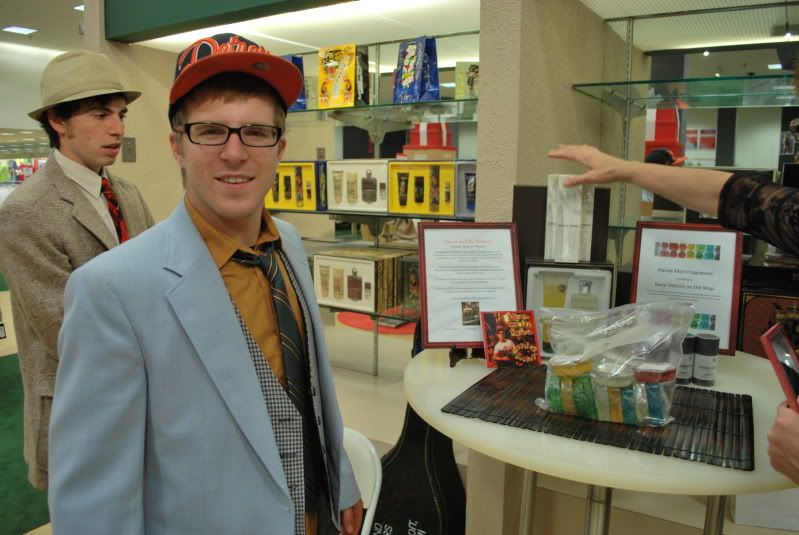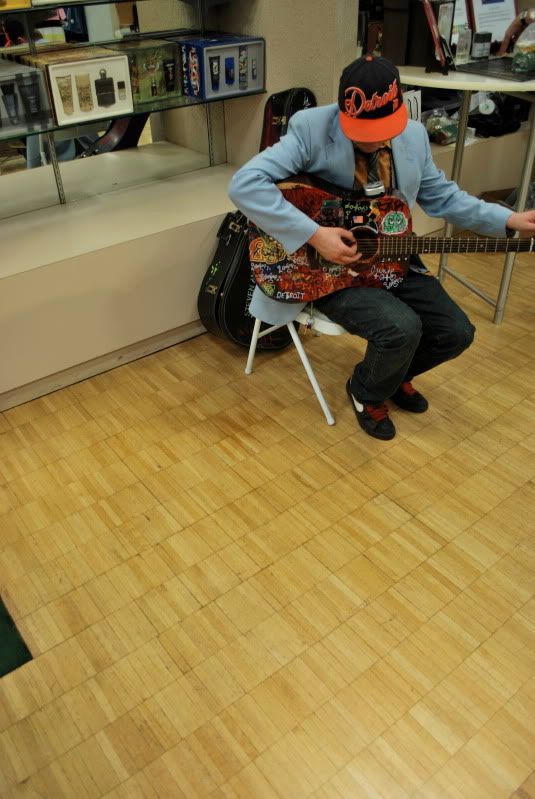 Matt's Mom sellin' 'fumes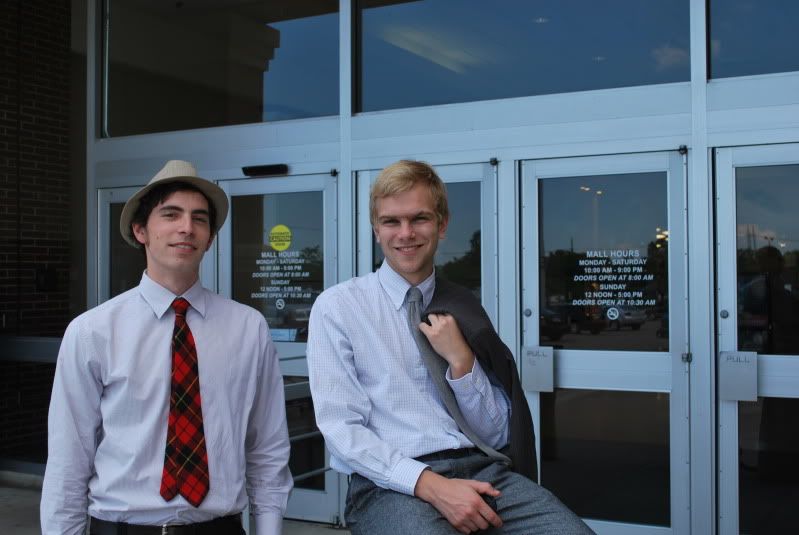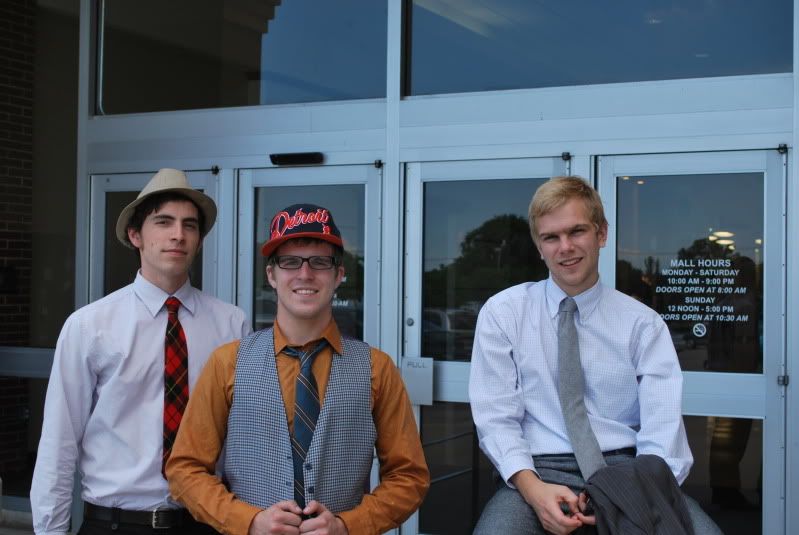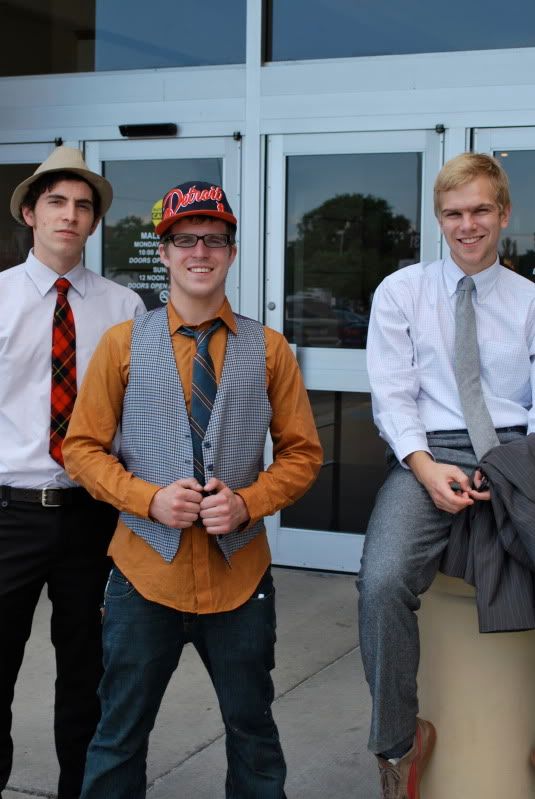 It was a pretty spontaneous experience, but really worth the trip out to the city. The end of the trip was spent eating big burgers and drinkin' beer in the afternoon, a slow walk to the train station by myself and a doze on the train on my way back to Ann Arbor. Not many more "back to Ann Arbor"'s left, you know. When asked for some post-graduate tips, a Resident Detroiter told me to take advantage of opportunities where having an open mind will be beneficial. I liked that advice, I liked my weekend.
and an interesting clipping.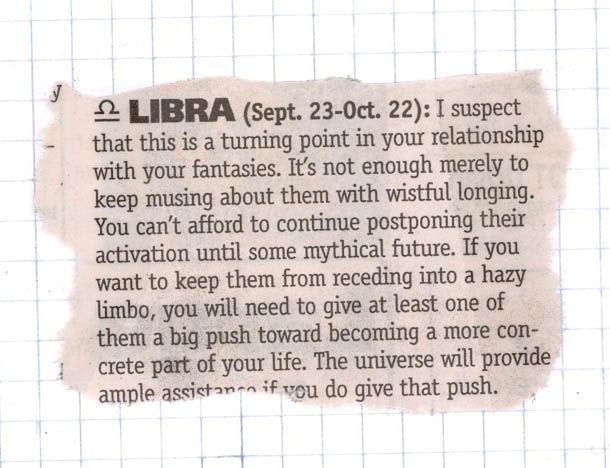 When you get to the fork in the road, take it.